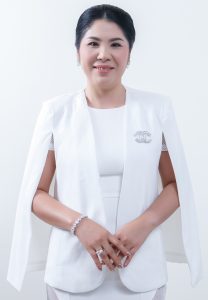 Khun Nongkharn
The Experience Development
EXPERIENCE
With a nurse degree from Chiangmai University Thailand, she was pursuing in a healthy body because many of her diseases in her life had inexplicable symptoms from hospitals and doctors in the regular medicine
So, She get more and more side-effects after a long term medicine
She change her mind to natural treatment and alternatives
With years of experience, experimenting on herself and others who wanted to contribute
The study case resulted that the products of NaturaCharm have been trusted by many costumers in Asia and elsewhere in the world since 17 years
The institute has a strong focus on beauty and health combined and respond to customer needs as well
Called a Holistic institute
Holists see organs (such as the skin) not as something separate, but always as part of your body
Typically, the holistic vision that your skin acts as a mirror of your health
Skin problems may indicate poor general health or specific health problem
Naturacharm has currently more than 50,000 people on the membership list and is known in 142 countries in the world in 2012.
THE RESULT OF NATURA CHARM
"As far as I can remember every single day there was a doctor or I had to go wait in the waiting room. I took anti-allergy medications just because I was suffering from dry skin which then also began to bleed when I constantly had to scratch the itch. I had eyeglasses from childhood.
In early 2005,I wanted to be rid of those eyeglasses and let my eyes lasering, however, after 5 years there was a deterioration of sight but the doctors did not repeat this treatment.
A chronic inflammation of the stomach, difficult in a country as my homeland where meals are "spicy". Severe migraine, often associated with menstrual cramps (Dysmenorrhea). Hepatitis B. Mitral valve prolapse with trivial mitral regurgitation.
I had it all, I thought many times, but when I got the doctor's report I could determine that the doctors are not much want to do and could do.
It was the "stress" or the "fatigue" that caused all this, they wanted me to understand.
Together with a doctor who specialized in traditional medicine, I searched for an alternative.
Who could make the pain in my life more tolerable, Maybe TO STOP.
The link to natural products and traditional treatments was made very quickly.
I was on a new way and successfully."
– Khun Nongkharn